MESSAGE FROM MRS. SAMBI MITRA
MY YEARS WITH ROTARY CLUB OF CALCUTTA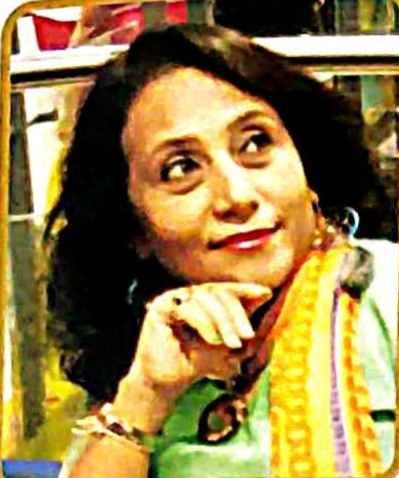 One night, my dear friend Ayesha Mazumder called me up and literally COMMANDED me to submit a write up about my Rotary experience for the CENTENARY YEAR BOOK. She notified me that there was yet another COMMANDER, Ashok da whom we fondly call AB 4 who wanted me to do the same.
The two COMMANDERS wanted my write up to be the last one of the book…in other words, I was to have the LAST WORD. I just did not want to let go this opportunity… infact, tell me, which wife would like to lose the opportunity of having the LAST WORD when her husband is in the FRONTIER leading others!!
on a serious note, I thought, I would have to rack my brains to write this article but, when I sat down to pen it, I found it was all so effortless. A myriad of thoughts, memories and dreams came fleeting across my mind.
My association with Rotary Club goes back to 2003 with the induction of my husband, CA. (Dr.) Debashis Mitra into the Rotary Club of Calcutta, who is presently serving with the Club as the President. From the very first day, I was addressed as 'TUMI' and not 'APNI' by the other members of the Club. That immediately struck a chord. With the passage of time, many started addressing me as 'TUI'.
The feeling of 'APNAPAN' was surely being fortified. The sense of belonging did not end here. Many a times I was made to feel like a ROTARIAN rather than a Rotary Ann, for instance, the several Installation Meetings, where I was assigned responsibilities, being part of Sub Committees in the yester years and more recently being given the responsibility to organize an Evening Programme as part of the Centenary Celebrations.
As for camaraderie, the Members Nite has always held a special place in the heart of my entire family.
Over the years I have understood the rich legacy of this Club and the service that the club renders to the under privileged.
As the spouse of the President I intend to devote more time to the Club activities in the Rotary Year 2020-2021. I am already a part of the Fellowship Committee and Members' Escapades Committee of the Club. I would be happy to involve myself in providing Free Legal Aid to the under privileged, Greater involvement in Community Service is a strong desire of mine, but most importantly, I want to enjoy ROTARY in the company of the esteemed members and their spouses of this august club.
As I pen off, I must state that Rotary has greatly contributed to my life. Having always believed that 'Charity begins at Home', nowadays I would like to believe it the other way round, courtesy, the Rotary Club of Calcutta.
SAMBI MITRA